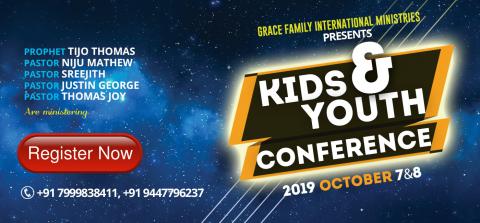 A conference for Kids and Youth.
All the kids and Youth from the age 3 to 18 can participate. 
This conference will be a time for kids to become closer with Jesus.
Here they will experience the direct encounter with Holy Spirit.
As  Prophet Joel said "your sons and daughters shall Prophecy", the kids who attend this conference shall be trained to operate in the Gifts of Holy Spirit.
Revival is Now. and the Revival shall be set off by the Young sons and daughters.
Note:
1. Keep the Payment ID that you receive in your Email Inbox as Reference with you.
2. Once registered, no reimbursement if fail to attend the Conference due to any reason
3. Last date for registration : Although we have crossed the deadline, we still have few seats Register Now
4. If you find difficulty in registration. Contact Whatsapp No. +917999838411