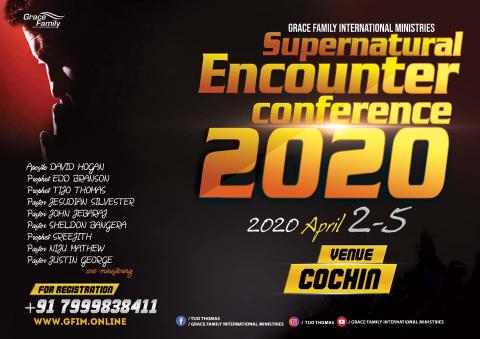 We are all set to start our registration for next year April 2nd to 5th 2020 Supernatural Encounter Conference. In the last conference, we saw Apostle Mel Tari, Apostle Mathew Kurvilla, Apostle Ram Babu and many more ministering in the fullness of Holy Spirit. Pastors, Leaders and their families life has been completely turned around in that conference. We are already hearing miraculous testimonies in their lives.
Therefore, we are all the more enthusiastic to tell you that Next Year's International Conference will be organised in much more larger scale. We expect 5000 to 10000 Pastors, leaders and their families. 
International Speakers whom we are approaching to invite are Revivalist Heidi Baker, Prophet Chuck Pierce and more.
Apostle David Hogan has already confirmed that he will with us during this conference. Of course, all our beloved Grace Family Prophets will be with us also.
Registration Started.